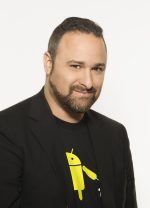 Summary
Topics Covered: Israel. Judaism and business. Startup nation. His late brother Ari Fuld's story. How Israel is making the world a better place.
Description
Hillel Fuld, named Israel's top marketer and "The man transforming Startup Nation to Scale up Nation" by Forbes, is a tech journalist, startup marketer, and technology expert. Hillel works with technology companies and accompanies them from idea to revenue. He also works with many leading tech brands as an influencer. These include Google, Oracle, Huawei, and many more. Hillel's work has been featured in CNBC, Inc Magazine, Fast Company, Entrepreneur Magazine, TechCrunch, The Next Web, and many other leading tech publications. Hillel was recently named the 7th most influential tech blogger on the Internet, and among the top 100 most influential social media personalities across the globe.
Alternatively, you can learn more about Hillel by reading his Wikipedia: https://en.m.wikipedia.org/wiki/Hillel_Fuld or by following him on Twitter: Twitter.com/hilzfuld.
In addition to Hillel's work with startups and multinationals, his writing, and his online activity, Hillel also speaks publicly on various topics including marketing, entrepreneurship, Israeli tech, and his personal story and business philosophy.
Hillel also has a tech vlog (https://youtube.com/c/HillelFuld) and a podcast (https://www.bootstrappod.com)that cover tech news in general, and Israeli innovation in particular.
What Hillel is most proud of is his family including his wife Racheli and his 5 amazing kids. He also takes pride that he has used his extensive network to help hundreds of people get jobs in the Israeli tech ecosystem.