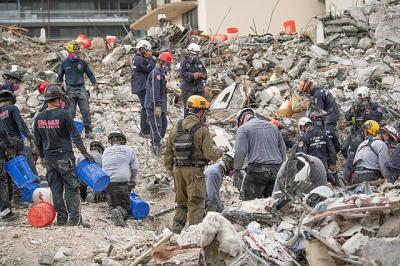 Young Israel Synagogue Spearheads Relief Effort Following Florida Building Collapse
July 29, 2021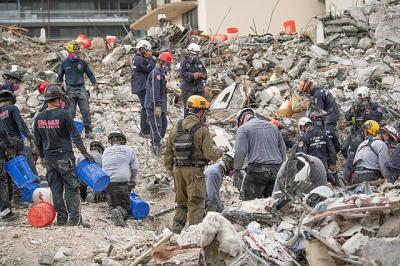 In the aftermath of the deadly Champlain Towers building collapse in Surfside, Florida, the Young Israel of Bal Harbour (YIBH) sprang into action and launched a comprehensive relief effort.
In collaboration with an array of local rabbis and community leaders from The Shul, Skylake Synagogue, The Cadena Organization, Boca Raton Chabad, The Shul of Harbour Islands,
Rabbi Citron's Surfside Minyan and The Sunny Isles Chabad, and by working closely with organizations such as Surfside Community Center, The Kosher Food Bank, Yedidim, Reef Tech, World Resources, Food Rescue, FEMA and the Red Cross, the YIBH transformed its garage into a supply depot station with systems to receive inventory and distribute supplies at a moment's notice depending on the need.
Through the Young Israel Community Garage Relief Effort, they provided cold water, fresh fruits, energy drinks, snacks and protein bars, as well as medical supplies, sunscreen, bug spray and other miscellaneous items as needed every day for rescue teams on the scene. In addition, handcrafted Shabbos boxes donated from Fanny's Shabbox containing fresh challah, grape juice, snacks, candles and a kiddush cup were provided to displaced families. The YIBH also donated new siddurim, tallis bags and tefillin for men who lost their sentimental prayer sets.
The YIBH also hosted the Red Cross and provided them with meals and partnered with New Time Catering and Mendel's Backyard BBQ Restaurant to provide hot lunches and dinners to volunteers and first responders. In conjunction with The Shul, daily meals were delivered to the Mexican Jewish Rescue Team, Chesed Shel Emes, Hatzalah, and the IDF while they were working at the site. Daily snacks, energy bars and coolers of refreshing ice-cold drinks were delivered to specific locations or picked up by local police officers, and the YIBH established a direct Amazon wish list which helped them collect thousands of dollars in donations, goods and gift cards.
The YIBH's mission of unloading, organizing and distributing daily shifted into creating a warm environment where families could come directly to their synagogue with dignity and humility to collect essential needs such as deodorant, toothbrushes, underwear, socks and other household items. YIBH volunteers provided a comfortable and inviting space to hear stories, share memories and show unconditional love and support for all those who needed it.
"There are no words to express the amount of pain and suffering our community has undergone during these past several weeks," said Bianca Senker of the YIBH Sisterhood. "Yet, within these darkest hours, our Jewish community unified to help those who have directly been impacted by the tragedy of the Champlain Towers. We have also been there for those on the frontlines, tirelessly devoting their strength and energy to search, rescue and recover family members and friends, many of whom we personally know and loved."
"All of this was possible because countless selfless, compassionate and kind volunteers from all over Florida and beyond helped transform our garage multiple times," Senker added. "Kids, teens, men and women walked in the rain or heat, delivering beverages and snacks to the police and first responders. Volunteers picked up displaced individuals and those waiting on news of loved ones to take them shopping or drive them to help resettle into a new apartment. Whatever the deed entailed, everyone united with positive energy, eager to assist."
Senker noted that the YIBH will continue providing meals to displaced families, working with the Kosher Food Bank and Jewish Community Services to provide high quality household items to displaced families starting anew, and bringing counselors to youth and adults who were affected by the tragedy. They will also continue collaborating with Miami-Dade Mayor Daniella Levine Cava, the Town of Surfside and others to ensure that they meet the needs of the community and maintain their personal relationships with impacted families.
"Our community will always carry this devastating time in our hearts but will also remember and hold onto the love of our friends and communities who came together to help everyone, no matter what faith, with a ton of kindness, compassion and respect," Senker said.