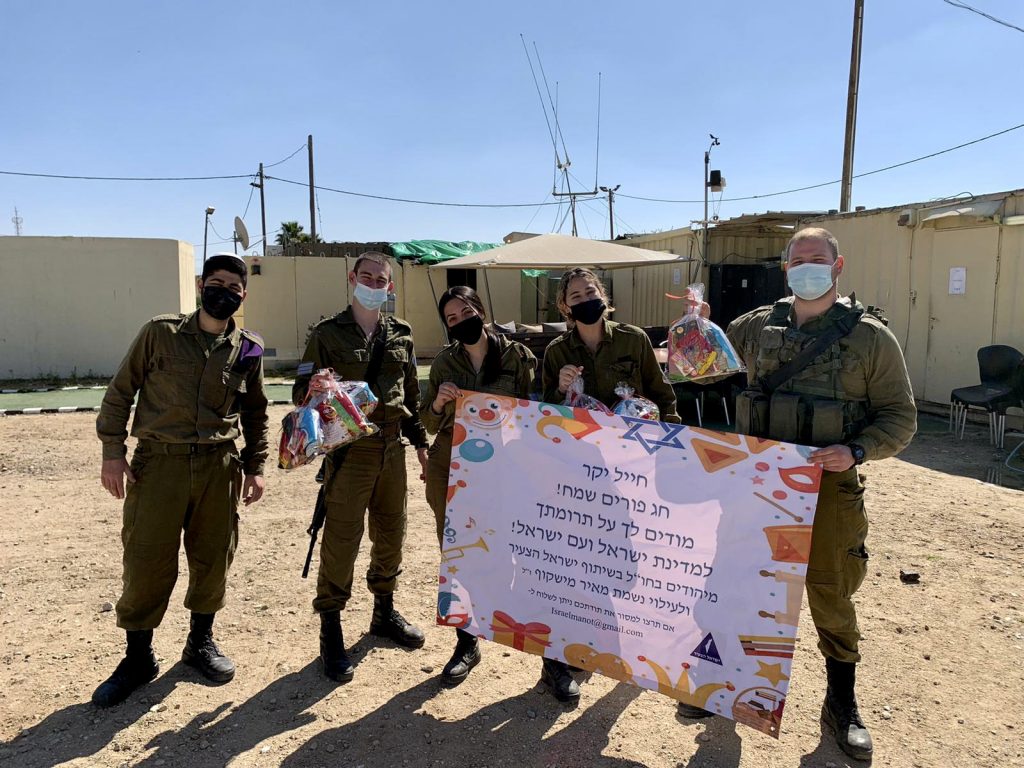 2,000 Mishloach Manot Packages Distributed to IDF Soldiers on Purim Through Young Israel Program
March 5, 2021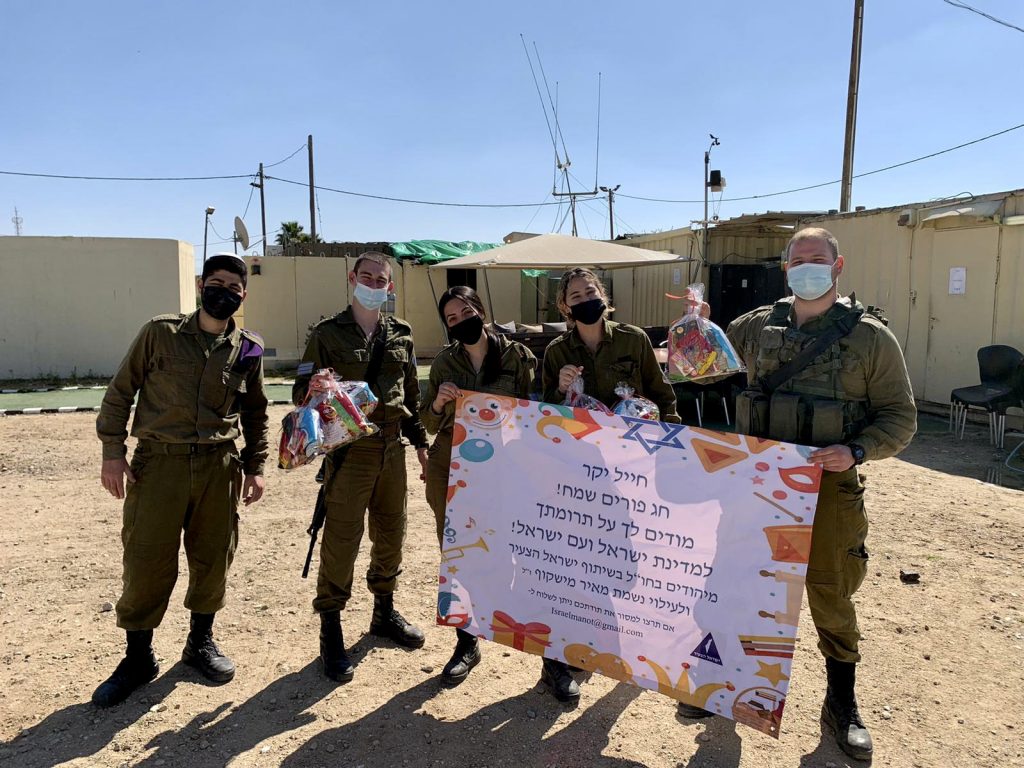 IDF soldiers throughout Israel had extra reason to smile on Purim after receiving Mishloach Manot packages through a program organized by American Friends of Yisrael Hatzair, in cooperation with the National Council of Young Israel (NCYI).
Despite immense challenges posed by Covid-19, approximately 2,000 Mishloach Manot packages were distributed to IDF soldiers on Purim day thanks to the tireless efforts of the Mishkoff family, who partnered with Lt. Colonel (res.) Rabbi Yedidya Atlas from the IDF Rabbinate and NCYI Director of Rabbinic Services Rabbi Binyamin Hammer. The program was made possible through the generous support and participation of nearly two dozen schools and synagogues across the United States.
The Mishloach Manot packages were delivered to soldiers from the Gaza Division in the south and the Judea-Samaria Division, as well as to other key combat units in central Israel and Naval units in the north. In addition, Matanot L'evyonim (Gifts for the Poor) were provided to nearly 100 needy soldiers and their families. Furthermore, Megillot Esther were made available, which enabled the IDF Rabbinate to perform Kriyat Megillah for every unit in Tzahal. 250 personal Mishloach Manot were also delivered to friends and family throughout Israel.
"All of these soldiers were serving and protecting Am Yisrael throughout Israel over the Purim weekend, thereby allowing everyone else to perform the four mitzvot of Purim in safety and joy," said Helene Mishkoff, who is a member of the Young Israel of Jamaica Estates. "It is heartwarming to know that these Mishloach Manot packages brought such joy to our heroic IDF soldiers and infused their Purim with a greater degree of happiness."
The Mishloach Manot program was started approximately 15 years ago by Meir Mishkoff, z"l, who had a tremendous love for the land of Israel, the people of Israel and especially the soldiers of Israel. Since the inception of the Mishloach Manot campaign, Meir, z"l, worked diligently to ensure that tens of thousands of IDF soldiers would be able to experience the true joy of Purim and to show them the constant support they have from Jews around the world. In light of Meir's unexpected passing in 2017, the campaign has been and will continue to be dedicated in his memory to continue his legacy for many more years to come.
"Supporting the brave soldiers of the IDF and demonstrating to them that the American Jewish community is grateful for their incredible service to the State of Israel is a responsibility that we all share," said NCYI President Rabbi David Warshaw. "We are so grateful to the Mishkoff family for their outstanding efforts and for spearheading this important initiative."
The list of schools and synagogues that took part in this year's Mishloach Manot program includes Young Israel of Hillcrest, Young Israel of Jamaica Estates, Young Israel of North Beverly Hills, Yeshiva University High School for Girls, Congregation Beth Aaron, Young Israel of Kew Gardens Hills, Beth Jacob of San Diego, Young Israel of Lawrence-Cedarhurst, Congregation Bais Ephraim Yitzchok, Young Israel of Hollywood, Yeshiva University High School for Boys, Davis Renov Stahler Yeshiva High School for Boys, Young Israel of Scarsdale, Young Israel of Forest Hills, Young Israel of New Rochelle, Ohab Zedek New York, Young Israel of Bal Harbour, Young Israel of West Hempstead, Lido Beach Synagogue, Young Israel of Boca Raton and Young Israel of Oak Park.
For more information about the Mishloach Manot program for the IDF through the American Friends of Yisrael Hatzair, which is an affiliate of the NCYI, please email [email protected] or contact the NCYI.
For the past 109 years, the National Council of Young Israel has ably served the broader Jewish community. With more than 25,000 member families and approximately 135 branch synagogues throughout the United States, Canada, and Israel, the National Council of Young Israel is a multi-faceted organization that embraces Jewish communal needs and often takes a leading role in tackling the important issues that face the Jewish community in North America and Israel.