NCYI National Chanukah Menorah Building Competition
FINALISTS WILL BE POSTED HERE SOON. PLEASE CHECK BACK WITHIN 24 HOURS SO YOU CAN VOTE FOR YOUR FAVORITES!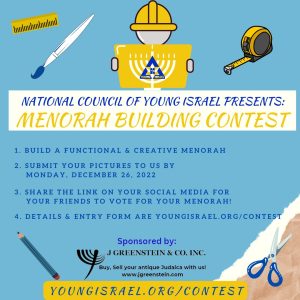 What does your menorah look like?
Is it the classic gold tin candle menorah?
A standard 8-branch oil menorah?
Or do you prefer to be more original?
If you're creative, if you're good at building stuff, and if you love to invest your time and energy in hidur mitzvah (beautifying a mitzvah), this is the contest for you!
Entries will be judged in three age groups:
Kindergarten thru 4th grade
5th – 8th grades
9th – 12th grades
In each age group, one winner will receive a $360 gift card, and one runner up will receive a $180 gift card.*
To qualify, your entry must be a halachically proper menorah/chanukiah:
Other than the shamash, all eight lights must be in a straight line and the same height. No semi-circles.
The shamash should be higher than the eight candles, in the center, or on the right side.
The shamash does not need to be in the same line as the eight candles, it could be in the front or back of the chanukiah.
A few additional rules:
Your menorah must be able to be lit using candles or olive oil. No electric menorahs.
A chanukiah should reflect the kedusha (holiness) of the chag. Have fun doing it, but do not make fun of something, or use images or themes that would reflect poorly on the chag.
Each menorah should be given a name that reflects its unique character.
All qualifying entries will be judged by visitors to this page, who will have the opportunity to vote for their favorite menorah.
Contest schedule:
December 26, 2022: Entry deadline
December 28: Voting opens
January 6, 2023: Voting closes
January 9: Winners announced
* If there are fewer than 5 entries in an age group, there will not be a runner up awarded.