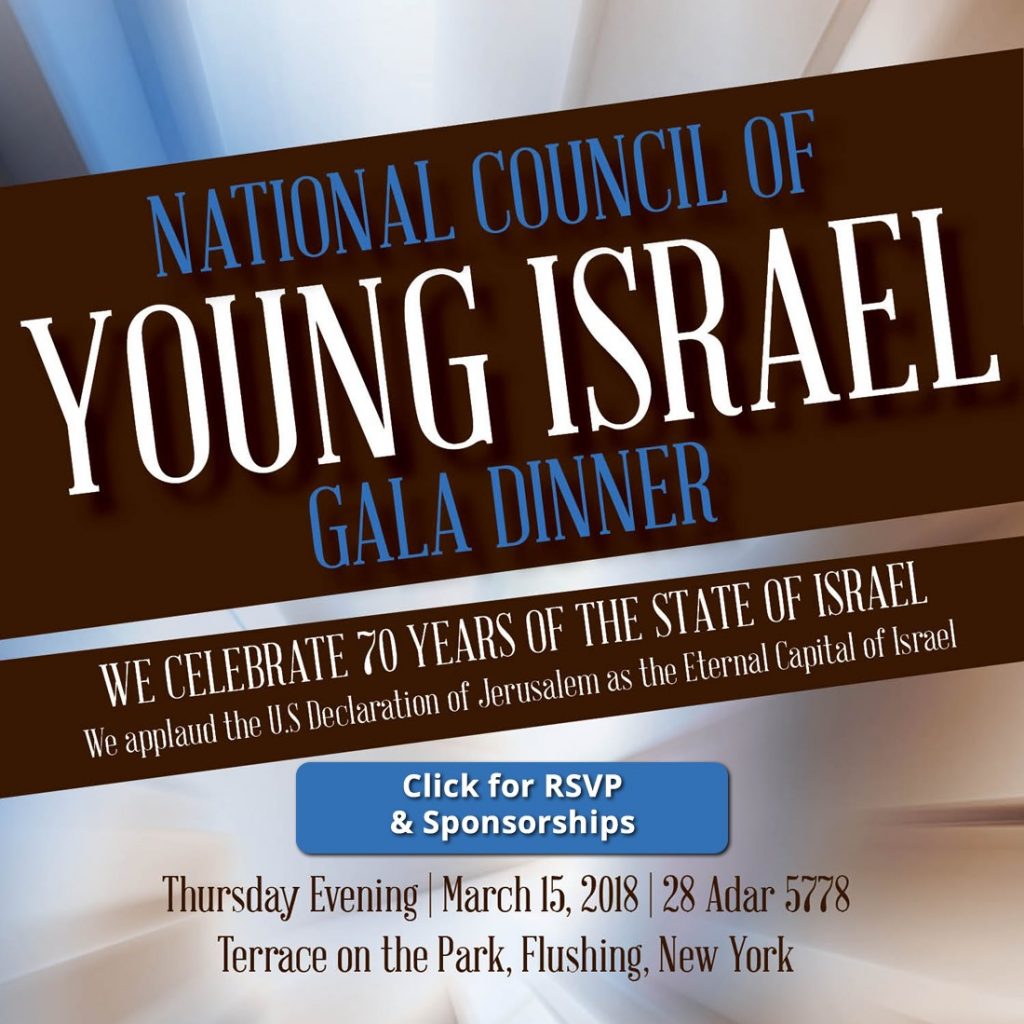 Young Israel Gala Dinner to celebrate 70 years of the State of Israel
February 20, 2018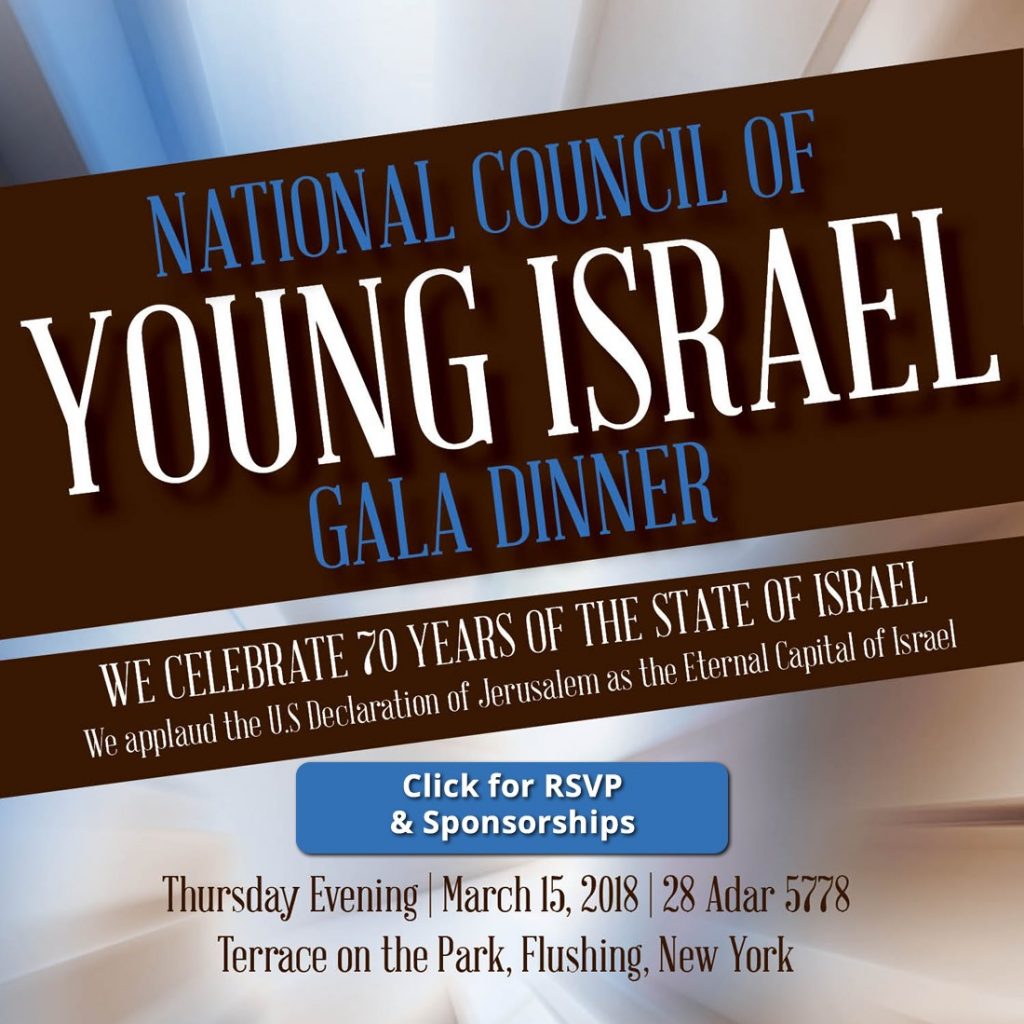 Former White House Communications Director is Guest of Honor; Florida Congressman Is Among the Guest Speakers
The National Council of Young Israel (NCYI) will celebrate 70 years of the State of Israel and applaud the United States' declaration of Jerusalem as the eternal capital of Israel at its Gala Diner, which will be held on Thursday, March 15, 2018, at Terrace on the Park in Flushing, NY. The event will begin at 6:00 PM with an elegant buffet dinner prior to the program, which will commence at 7:30 PM and be followed by a lavish Viennese dessert.
The NCYI Gala Dinner will pay tribute to a host of worthy honorees, including current and former government officials, and several visionaries and activists who embody the values and core mission of the National Council of Young Israel. The Guest of Honor is former White House Communications Director Anthony Scaramucci. Congressman Ron DeSantis of Florida, Chairman of the National Security Subcommittee and a member of the Foreign Affairs and Judiciary Committees, will be among the guest speakers. Stuart Force, the father of Taylor Force, whose tragic death led to the landmark legislative effort to defund the Palestinian Authority until it publicly denounces terrorism, works to end violent terrorist acts, and terminates the practice of giving stipends for terrorists, will also be a featured guest speaker.
For information and reservations, visit www.YoungIsraelDinner2018.com or email yi_dinner@youngisrael.org.
For the past 106 years, the National Council of Young Israel has ably served the broader Jewish community. With more than 25,000 member families and approximately 135 branch synagogues throughout the United States, Canada, and Israel, the National Council of Young Israel is a multi-faceted organization that embraces Jewish communal needs and often takes a leading role in tackling the important issues that face the Jewish community in North America and Israel. The NCYI provides religious, educational, Zionistic, social, and communal programming for all its member synagogues and their affiliated families.
The following individuals will be recognized by the National Council of Young Israel at its Gala Dinner:
Guest of Honor & Guest Speaker:
Anthony Scaramucci
Former White House Communications Director and CEO, SkyBridge Capital
Guest Speaker:
Congressman Ron DeSantis
U.S. Representative for Florida's 6th Congressional District
Guest Speaker:
Stuart Force
Father of Taylor Force, whose murder led to the introduction of the Taylor Force Act
Guest Speaker:
Morton Klein
President, Zionist Organization of America
Guest Speaker:
Sander Gerber
CEO of Hudson Bay Capital
Guest Speaker:
Rita Cosby
Television News Anchor & Correspondent
Master of Ceremonies:
David Drucker
Senior Editor of the Washington Examiner and CNN Contributor/Political Analyst
Shofar Award:
Kenneth S. Abramowitz
Managing General Partner and co-founder of NGN Capital
Shofar Award:
Morty and Rozi Davis
Owner and Chairman of D.H. Blair Investment Banking Corp. and Chairman, Orthodox Jewish Chamber of Commerce
Shofar Award:
Michael and Susan Gross
Active members of the Young Israel of Lawrence-Cedarhurst
Shofar Award:
Drs. Robert and Jennifer Lebovits
Active members of the Young Israel of Greater Pittsburgh
Shofar Award:
Stanley Sved
Former President of the Young Israel of Elkins Park and the Young Israel of the Main Line, Former Regional Vice President of the National Council of Young Israel
Rabbinic Leadership Award:
Rabbi Yosef Singer
Spiritual leader of the Young Israel of Potomac, President of the Rabbinical Council of Greater Washington
Young Leadership Award:
Rabbi Duvi Honig
Founder of the Orthodox Jewish Chamber of Commerce and the non-profit Parnassah Network organization
Aishes Chayil Award:
Helen Freedman
Co-Executive Director of Americans for a Safe Israel (AFSI)
Aishes Chayil Award:
Cindy Grosz
Pro-Israel and education activist
The Dinner Chairman is NCYI 1st Vice President Dr. Joseph Frager and the Dinner Co-Chairman is Jonathan Burkan. The Program Chairmen are NCYI Executive Director Rabbi Marc Volk and NCYI Director of Rabbinic Services Rabbi Binyamin Hammer. The Journal and Dinner Coordinators are Judah and Carol Rhine of the Young Israel of West Hempstead.